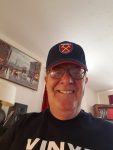 Hugh Southon reacts at the end of an international fortnight which has felt like a decade or more
It's been a long and intensely slow news fortnight which appears to be closing with yet another sleepy time story from the Sun.…well it would have to be them wouldn't it.
They have unashamedly recycled the 'Walter Mazzarri for West Ham' story in the absence of much else to write about.
The latest from the on line arm tells us that the former Watford boss could be in line for a "a shock return to management in the Premier League."
'Shock' may be a slight overstatement given that his name has probably been mentioned half a dozen times in the last fortnight.
So we may we say right away that as a rumour it's not worth a fart and as a piece of gossip a total non starter with all the smart money on Slaven Bilic remaining until the end of the campaign.
Truth is it's been open season on the manager from all quarters and it needs to stop because whether we like him, rate him, or not, none of this is doing our club any good.
All we need now to help any insomniacs out there is an early sight of the Karren Brady column at the end of a week when Jack Sullivan has been criticised by Graeme Souness for his Twitter  comments despite remaining quiet for ages.
So long as football's 'First Lady' doesn't repeat her apparent hope that a Spurs Title win would be okay by her I can just about live with another boardroom media seeker…although I'd sooner not.
Thank God the football starts again tomorrow. At least that's how I feel right now. How any of us will be feeling after the first 20 minutes or so is anyone's guess.
Top weekend guys.
COYI