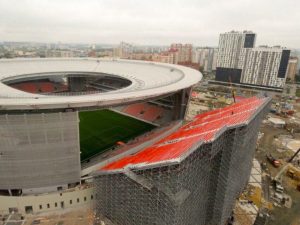 Ekaterinburg Arena in Russia has built temporarily seats on scaffolding outside their stadium to meet a FIFA criteria of 35,000 spectators for the world cup. The London Stadium has often been criticised and mocked for their of scaffolding for the lower tier retractable seating but this new barmy seating in Russia takes it to a different level of football mockery.
"In the case of Ekaterinburg, temporary seats are being installed in order to ensure that the renovation work would conserve the historical facade of the stadium and that maintenance costs are reduced after the FIFA World Cup," a FIFA spokesman told the Guardian "Inspection visits and detailed reports have shown that the temporary seats in the Ekaterinburg Arena fully comply with all safety and security requirements."
FIFA's official public relations Twitter account later insinuated that the plan was partly approved so that the stadium would remain appropriately sized for the city of 1.4 million after the World Cup ends.