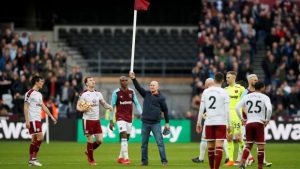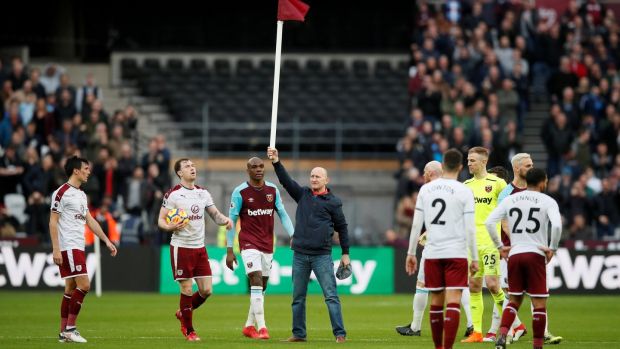 The London Stadium Stadium Safety Advisory Board which met yesterday has said it would while it accepted the troubles last weekend were caused by a small minority of fans it would seriously consider forcing West Ham to play behind closed door effectively banning all fans.
In a Statement released on WHUFC.com last week the SAG said:
"The London Stadium Safety Advisory Group met today and found that a small minority of spectators from within a very large crowd caused an unprecedented level of disorder at multiple locations across the stadium, which would have been almost impossible for any security team to manage.                                                                                                                                     
Whilst some issues in the security regime were identified it is recognised that the operation were stretched significantly by the scale and volume of incidents and stopped most attempted pitch incursions successfully.
In response, a series of measures will be introduced for the next fixture including: increased stewarding, enhanced pitch security and a significantly larger police presence.
A spokesperson on behalf of the London Safety Advisory Group, said: "The Safety Advisory Group for London Stadium has today met to discuss the serious disorder last weekend.
"The Safety Advisory Group (SAG) recognises discontent among fans cannot be allowed to compromise the safety and wellbeing of the majority of spectators at the stadium.
"The SAG has been working closely with London Stadium 185 (LS185), E20 and West Ham United to understand the sequence of events leading to the disorder. We have instructed the stadium operators to make changes to prevent a repetition.
"The SAG has seen evidence that the level of disorder would have been difficult for any safety management team to contain. Following today's meeting the SAG is reassured that safety is LS185's top priority.
"The SAG has made specific requests to the stadium operators for the next fixture including:
•             Police will be present inside and outside the stadium
•             Bolstering the response teams
•             Restricting access to the area in front of the directors' box
•             A review of spectator movement around the stadium
"In addition, LS185 and West Ham United have made great strides in identifying the trouble makers and have been very clear that those guilty of violent or aggravating conduct will be banned from the stadium. It is anticipated these stadium bans will be in place for the next home fixture against Southampton on 31 March.
"The SAG acts as the advisory body to Newham Council in its safety certifying role. Following reassurances that have been given, it is the SAG's view that the council does not need to use the ultimate sanction, which would see capacity reduced at the venue and spectators excluded. The remaining homes games will be closely monitored.
"The SAG must make clear that in the event of future disorder, it would seriously consider advising the certifying authority to take forward this sanction. Playing behind closed doors would be a great shame for the majority of fans who wish to watch and support their team in safety."