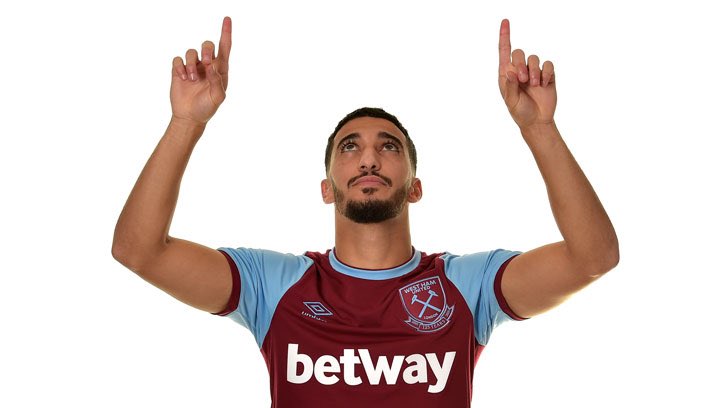 West Ham new loan signing Saïd Benrahma has given his first interview to the club's official website.
In it, he says:"I am proud to represent Algeria in the Premier League, and there's already a player who's representing Algeria very well, who is Riyad Mahrez," he told West Ham TV. "Hopefully I can do my best to represent it (my country) well too.
"They love us back there, so we'll try to give it back to them on the pitch and make them proud. I'm proud to be an Algerian."
"Sofiane is a great player who had a spell at West Ham," he confirmed. "I talked to him and he gave some good advice and told me positive things about the club. He helped me with my decision and I'm very happy about it. I hope I can do my best here, just like he did."
"Riyad is a friend of mine, but once we're on the pitch, I'll represent West Ham and I hope we can win," he smiled. "But yes, he's a friend and a team-mate in the national team so I'll do my best to beat him."
"I've had it [this style] since I was a kid," the 25-year-old explained. "I was born in Algeria and I used to enjoy myself playing in the streets, because for me, playing football is a pleasure. So, it's about trying to repeat the moves I used to perform outdoors when I was a kid.
"That's how it is back there, I think the Algerians are all the same in that sense. We all like to have the ball at our feet and play with it."
"I was born in Algeria and I arrived in France at the age of 12 in Balma to join my mother," he confirmed. "I played for Balma and they had a good academy, with good training for the youngsters. They help them a lot and they helped me a lot; I stayed there for three seasons. Then I moved to Colomiers, where it all went down very well too, before joining Nice.
"I didn't follow a proper training and my debut for Nice was a bit difficult. It was very hard as the professional environment was all new to me. But I managed to learn over time under all the coaches I had. It was just part of the learning process. I also met Hatem Ben Arfa at Nice, he's just so good! He's very, very good, he's a natural talent, a genius.
"I was loaned a few times and it turned out to be very positive for me. The last loan was at Chateauroux, where it went very well, and that's where Brentford came to me.
"I want to thank them warmly as they put a great deal of faith in me and I'm grateful to them for that."
"When Brentford approached me, I could have decided to stay at Nice, but Brentford's project got me very interested," he recalled. "They were planning on trusting the youngsters, thanks to a good development. So when I met them, I thought: "That's where I want to be". I did join them and it went down very well; I spent two fantastic seasons there.
"It's physical in the Championship, just like in the Premier League, you just need to adapt. I'll see how it goes in the Premier League as I'm about to discover it.
"Standards are obviously very high in the Premier League and any player would like to come to England. Almost all the best players are in England, so it's exciting to compete against the greats.
"I joined the Championship where I really enjoyed myself and I think the Premier League is at another level, so I'm very happy to join it and I'll try to do my best."