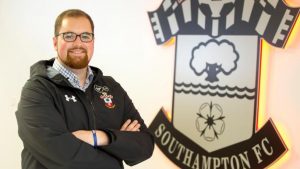 Former Southampton Player Liaison Officer Hugo Scheckter has joined West Ham as the new head of player care.
Hugo speaking on social media said today: 
"‪Incredibly excited to announce that I will be joining West Ham their new Head of Player Care. Hugely honoured to be joining a club like West Ham
lead
their new player care department and being trusted to take things to the next level. #COYI "
A job advert for the role which can still be found
here
says the role includes: 
"Development and management of a high-quality Player Care provision, including the relocation and integration process of new Players and their families to the Club and the local area, whilst also providing ongoing care, assistance and support to current players and First Team management. To support First Team football operations and administration and to provide a link with Club Departmental Heads to ensure a professional and co-operative working environment."
Hugo spent three and a half years at Southampton previously coaching a girls soccer girl in the US as well as a stint as team operations manager in Indianapolis.