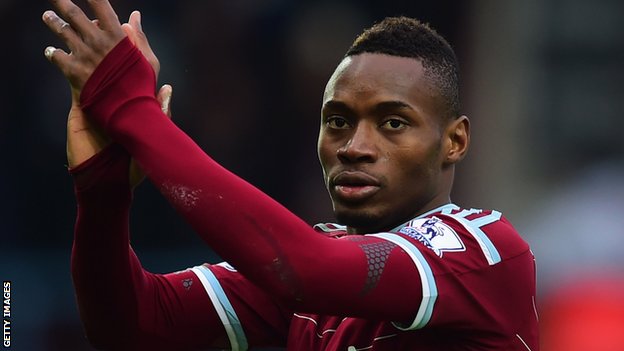 Diafra Sakho is one of the very few footballers who can cheer me up on a grey morning!
He's a guy who always seems to say the right thing and that I believe is because – unlike so many – he means and feels every word.
To have scored a dozen goals in a season when little was expected from a guy who was very much seen as second string signing to Enner Valencia is a tribute to his amazing work ethic and determination.
And this week he was at the Olympic Stadium clearly overwhelmed by his first impressions and looking to grab a personal double.
He told West Ham TV: "It's beautiful, I'd even say magnificent. I'm eager to play there and pleased with everything that I've seen. Everyone dreams of playing there.  I would even like to score the first goal in the new stadium. That would be amazing.
"I hope to score the last goal at Upton Park as well and then the first one here! You have to be ambitious. We play for West Ham, if we're not ambitious, we won't be playing at the new Stadium."
"I can't even imagine it. It's going to be something unforgettable. The first day that we step out there, we're going to feel that we've really gone to a new level.
"To go from 35,000 to 54,000 is massive. I think Season Tickets are going to go very quickly this year, that's for sure."
All of that may sound like the answer to a public relation man's name but Sak is a man who says it as he sees it as demonstrated with his attack on the FA earlier this week.
This guy is gonna become one of our legends!