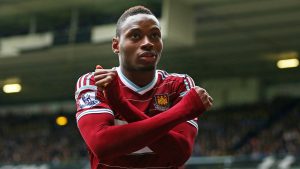 Diafra Sakho's long term West Ham future is likely to be established over the next five games.
Slaven Bilic denied today there was a problem between the pair claiming Sak had explained he had an injury when he called him up on the day the squad was travelling to Sunderland.
However,  our own sources insist Sakho was desperate to play and from the start when we again contacted them today saying: "There was some sort of tiny knee issue but not of sufficient a problem to stop him playing. When he learned he wasn't starting he raised the injury issue."
It's all a little odd because nobody has explained in public what the injury is and when it was sustained. Usually the medical staff would inform the manager of a player's condition."
Everybody in and around the club will be watching carefully as Everton approaches as Sakho is at a personal crossroads in his career having barely seen action since his failed medical at West Brom.
He knows that should he fail  to make a return he goes into a long summer without having been able to show the club he is back to his best or be seen in the shop window by other clubs until next season the earliest!
And it's that which is at the bottom of Sakho's frustration and it is one shared many around the club where most want to see him back and well involved.
There seems to be absolutely no value in keeping the player on the sidelines – the losers will be the player, the club, the fans, the manager and team.
In five words: WE STICK BY OUR STORY!