ClaretandHugh's top analyst/columnist Leroy Rosenior has slapped a £25 million price tag on dazzling Diafra Sakho.
Headline hogging Andy Carroll with two goals and an assist for the Senegal international's goal was voted man of the match against Swansea but Leroy was amazed by Sakho's return to action.
The former Hammers striker said: : "It really doesn't matter who he plays with, he has an instinctive understanding of the game and goes to exactly the right positions.
"He came back after an absence and looked as though he'd never been away and with a new strike partner. Staggering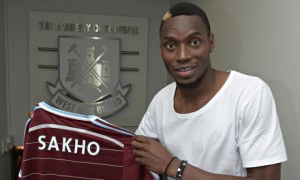 "There are players who can make you look bad…Diafra is the opposite. Anybody who plays with him will be made to look good. He can finish, has great guile, no nerves and turns up in the right place because he's such a good reader of the game.
"He's so good running off the ball and he has excellent touch and is one of the best strikers I've seen in several years. He's an amazing player.
To have come out of the French Second division and be performing to this level is quite extraordinary and there's much much more to come from hom."
Leroy, having seen Queens Park Rangers striker Charlie Austin become dubbed a £16 million player,  beleives Sakho has to be worth far more than him.
He said: "Obviously we are judging things on how they look right nbow in the present vein of form but for me – at this moment – Diafra is worth £25 million minimum.
"For me there isn't a better striker in the country."