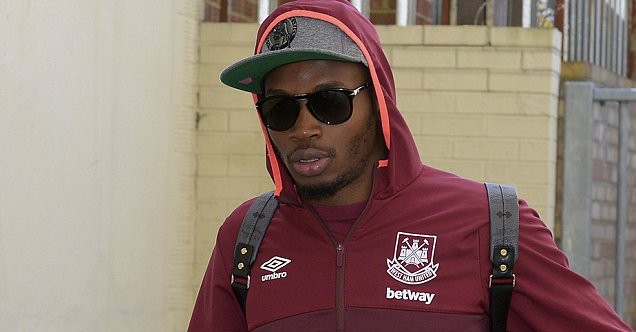 I have been one of big Diafra Sakho's biggest supporters since he arrived at the club…love the bloke as a player.
His virtues are well known and at his best he gives West Ham an entirely different dimenson.
Talk to ex pros and they will tell you of his abilities to move defenders about, his ability to go through the middle or play wide, his strength in the air, ability to create space and more makes him the perfect front man. At his best he a top top player.
However, his attitude this summer – which has clearly been emerging since the end of last – has been deplorable. People I respect told me he was trouble but I wasn't ready to listen, believing that he would settle down and behave himself.
I couldn't have been more wrong…and I am truly sad and upset that he has made it clear West Ham is part of his past.
I'm told by reliable insiders that the bottom line problem is dough and that he believes he's worth a lot more than £30k a week.
He probably is but there's one rather big problem – his injury record which doesn't appear to be improving – and which may or may not inhibit the move he wants. That's why Sunderland said they would only pay £12 m – NOT ENOUGH – if he completed 30 games a season for three campaigns.
The easy fix is to give him what he wants of course which is probably another £10k to £15k a week but given those injuries is that good business, paticularly as he has now demonstrated, he has plenty of attitude?
The offiicial "sick bug" explanation for him missing the American trip was quickly overtaken by events and now we are locked into a scenario where he is refusing to join the squad in Austria.
If that is true – and one has to be careful when commenting from a distance, then it's deplorable and wrecks any suggestion of repsonsible or professional behaviour.
We have all become upset at the way we are treated by employers at times – or at the wages we are paid – but it doesn't mean that we should refuse to do our jobs.
Were  we to do so we would put in ourseves where very charge of unprofessionalism is fully justified. And if is all as it seems then I am afraid Sakho is guilty of the worst kind of behaviour.
The two Davids have been here before when as owners of Birmingham City they had a similar situation with a certain Robbie Savage who put the same sort of screws on when wanting a move to Blackburn Rovers.
That went on for ages simply because the midfielder wanted to play under his favourite Welshman and boss, Mark Hughes.
Before he finaly left he was forced to run the gauntlet of angry fans when turning out for the 'stiffs' in front of a thousands who turned up to give him a seriously hard time under Steve Bruce. Finally of course he moved on for good money as I have no doubt Sakho will.
Slaven Bilic has shown he takes no prisoners as was the case with Morgan Amalfitano and he may decide against the Bruce way of doing things preferring rather to get Sakho out as quickly and quietly as possible. One things for sure, Slav has no time for drama queens.
However it's done, one thing is certain. Sakho has let the fans down, the club down , his emploters down but chiefly himself.
I go out where I started. Love you as a player Sak but this behaviour – if all is as it seems – does you no credit. In fact, it's appalling.