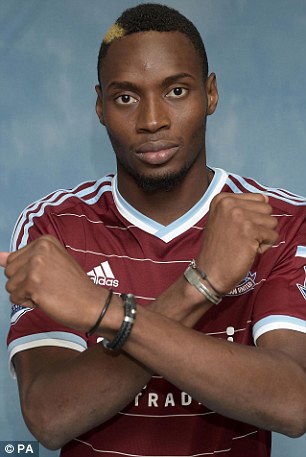 Diafra Sakho has set his own personal target to score twenty goals next season.
Speaking to the official website the top Hammers goal scorer said 'Before this season, I said to myself I would score 12 goals and I scored 12, so next season I want to score 20. If I play games, I will score.'
The Ligue 2 Player of the Year for 2013-14 scored 20 goals in his final season for Metz helping them win promotion to Ligue 1.
When Sakho signed for West Ham he set himself he originally set a goal target of 10.
"From the moment I arrived I set myself targets," said Sakho. "Personally that was to get in the team, I knew that I was going to score goals."
"The target is only 10 goals, I didn't know how things were going to pan out, but it is still only 10. I'm the sort of person that once I've a target in mind, I stick to it, even when I know that perhaps I'm going to achieve it, I still have to get there. The moment I get to 10, I'll set new targets, 15, 16,or 17 perhaps, but personally, for me, the target is 10."