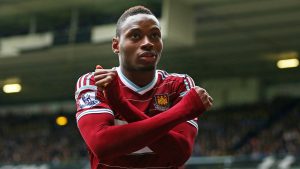 Diafra Sakho is putting in "many extra hours" in the gym and on the training ground as he edges closer to a Hammers comeback.
And despite widespread press speculation today (Thurs) that he would not be back in action this season, that was emphatically denied to ClaretandHugh this evening.
Sakho is arriving at work each morning insisting that he is ready to play and with every "no, no, no" he gets from the medical staff he is retorting with a "yes, yes, yes."
We were told this evening by a key insider: "Where all this stuff about him not playing this season has come from I don't know. Medical staff always mention low expectations publicly but Sakho is working like a demon.
"He has had a real reality check and is determined to be back in April and I would be astounded if he wasn't. His attitude is spot on and he's behaving like a young kid who hasn't played for a couple of weeks and is desperate.
"He is staying behind well after all the others have gone home and is working and working in the gym and on the training field. It's great to see and he will be back."