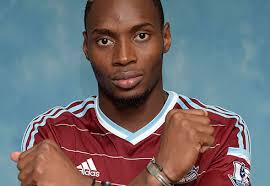 Whenever a high profile footballer finds himself in the headlines for the wrong reasons this sentence normally follows: "What sort of role model is he to youngsters."
Sadly, when a guy comes along showing all the old fashioned virtues of hard work, dedication and determination, nobody tells the kids to use him as a mentor…so I will!
Step forward Diafra Sakho – a guy who appears to shun any idea of there being short cuts to success which is one of the blights on a society where everybody wants to be a star without putting in the hard time.
It's fantastic that this lad has caught everybody's imagination, simply because he is absolutely desperate to give his best at all times whatever the cost. Love that!
The circumstances surrounding his arrival at the club have been very well recorded but they only remain important to demonstrate the type of character this guy possesses.
It was a battle for him to reach the Boleyn from the start but there has been no sulking, no complaints, just an honesty on how and why what happened and an absolute determination to make the move work.
Personally, and I've been around this game longer than I care to remember, I can't remember a more heart-warming story.  The guy is a credit to his country, to West Ham United but chiefly to  himself.
Everybody I've spoken to about the guy from the highest inside the Boleyn to the humblest has nothing but the very best to say about this young man.
In a world where 'flash' too often rules, Diafra Sakho is a supreme role model not just for the kids but every one one of us.