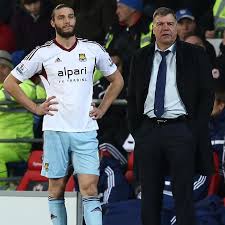 Andy Carroll!
The name provokes extreme reactions and the Twitter keyboard warriors in particular have posted some pretty shameful stuff about the lad since his West Ham arrival.
So let me say this straightaway: I don't give a toss about scurrilous rumour-mongering,  only what happens when he's on the pitch.
And yes I am aware of the charges touched on in the media and answered by the player that his lifestyle doesn't affect his attitude or physical attributes.
The latest round of rumours – denied hotly by insiders to this site – are that the Davids are ready to sell him at up to a £12 million loss to Newcastle. Nonsense of course!
But the purpose of this article is to study why the player wasn't too effective last season and why he may be a 200 per cent better striker when he returns.
Let's start by reminding ourselves that football in the 21st century is a SQUAD game and those who claim that because Enner Valencia and Diafra Sakho have started the season so well we can wave goodbye to AC are, in my view talking rubbish.
Suspension, injury, loss of form will come into the equation eventually but there's another top reason for keeping Carroll and it is this:
When he was used in the one up system last season – the big lump providing knock downs and flick-ons – there was absolutely nobody following up!
Indeed he spent most of his time chasing them himself at times resembling the headless chicken and thus reducing his effectiveness by around 50 per cent minimum.
Imagine the ammunition he may provide for either of the other two strikers or both because let's not rule out playing three strikers.
Don't listen to me on that. Here's what Neil McDonald says: "When he does become fit, will we keep the same formation? We'll wait and see, but it would be interesting to play two up top with Andy."
So the idea of getting rid is a non starter at both financial and playing levels. I'm with the assistant manager on this and looking forward to an even more attacking and potent Irons when AC is fit again.