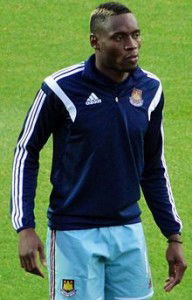 Diafra Sakho set himself a modest goals target when finally landing his move to the Boleyn.
After the uncertainty of the on/off switch from Metz, he would have been unwise perhaps to set his sights too high
Now having scored in his first five games the modesty of his original goals target is almost laughable!
He told London24.com: "From the moment I arrived I set myself targets. Personally that was to get in the team, I knew that I was going to score goals, but I didn't think it would happen so quickly.
"I came from Ligue 2 in France and I was voted player of the year, but when I came here people told me that I wasn't up to playing in the Premier League.
"That motivated me to want to come here and to prove to everyone that even coming from Ligue 2, I can still compete in the Premier League."
he has more than answered his critics, scoring on his debut against Sheffield United and continuing the goal fest against Hull City, Liverpool, Manchester United and Queens Park Rangers to his tally.
But he revealed his original target wash just to reach the barest minimum double figure.
He said: "The target is only 10 goals. I didn't know how things were going to pan out, but it is still only 10.
He said: "I'm the sort of person that once I've a target in mind, I stick to it, even when I know that perhaps I'm going to achieve it, I still have to get there."
He added: "The moment I get to 10, I'll set new targets, 15, 16,or 17 perhaps, but personally, for me, the target is 10."
"It's far too early to say what heights we can reach. We know the club targets are already set, but in relation to us as players in the here and now, it's to be among the top 10.
"If we can do better, then it will be better for us and for everyone. We've got a lot of quality, individually and collectively, and so we've got to put it in to progress and to aim high."