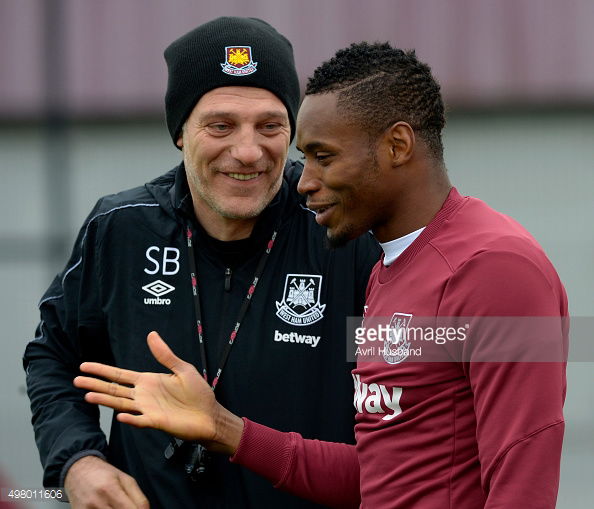 Diafra Sakho has made it clear he wants to be back on the pitch "in early April."
The striker has been badly missed in a season where goals have been in desperately short supply  declared confidently: " "I feel I'm ready to play. I've already asked to play before, but I think the medical team wanted to protect me, so that I could do a bit more work in the gym and on the training pitch individually.
"I have now resumed training with the first team and want to play in early April."
He admits working alone with the rehabilitation fitness coaching staff was 'not easy admitting: "It's always hard to work on your own because you're less motivated
"It's mental strength that gives you extra desire and when you see your teammates out training, you want to give even more.
"I'm coming to the end of the tunnel, so I think I'm making good progress."
Sakho's comeback – and from the way he talks that could come either on Wednesday evening at Arsenal or more probably against Swansea at the weekend – will defy the prophets of doom who had written him off until next season.
ClaretandHugh has made it clear regularly that he looks certain to be back and much of that had been down to his determination to put in extra training sessions after the rest had gone home.
He revealed: ""After training I used to head straight home, but now I devote more time to understanding my body and stretching.
"I think it's a good thing. I used to hate it. I didn't want to do it. African players often head straight home after training and we don't make time to see what our bodies need.
Bilic and the medical staff are eager that he build up his strength and fitness before he takes on the physical and mental challenge of first-team football again, but the No15 is simply desperate to get back to doing what he loves.
And the player said: "To be honest, I'm only thinking about playing. I want to show the people what I'm capable of. I know that everyone in Senegal or Africa is waiting to see me play every weekend as it will make them happy.
"That's what I know how to do. I don't know how to do anything apart from play football. That's my job. I try to entertain those who watch me play."