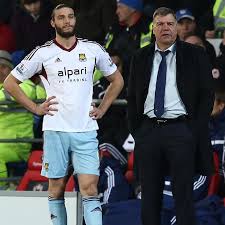 Sam Allardyce has again showed no hesitation in naming Andy Carroll as his key man but still claims the striker's not at full fitness!
The manager – reflecting on the weekend match against Manchester United and beyond – is clearly relying on the AC factor as a massive part of his survival plan
He explained: "In the games coming up he'll be very important for us and for him to continue to play and up his match fitness as quickly as we can. The longer he carries on playing the better he's going to get.
"He's a player that's very, very eager and very fresh, he's not fatigued as some of the players are at this stage of the season having played the entire season.
"He's fresh, he's eager and he's willing to get out there and try and improve the team's results as much as he can.
"For us it's about playing off Andy, not off his head, playing off him into his feet and his chest because the capabilities he has to hold the ball up.
"The amount of fouls he draws in off the opposition defenders. Marouane Fellaini persistently fouled Carroll which gave us good opportunities to get the ball into their box and try to score.
Allardyce told www.whufc.com "He'll get better as he gets sharper and we hope he stays fit. He laid two on for Kevin against Swansea, he scored a goal against Stoke but didn't get the chance to score at the weekend.  If we provide the service he'll get the goals."