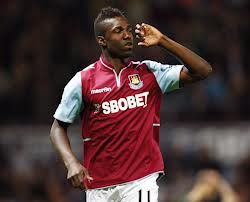 Manager Sam Allardyce is hoping slow burner Modibo Maiga is about to explode and do the opposite to Christian Benteke and Newcastle's Papiss Cisse.
The Irons boss – describing the centre forward as "a quiet, unassuming person" says he has found it "difficult" since arriving at Upton Park.
He said that although Andy Carroll's injury provided him with a great opportunity, he's been unable to provide the goals and added ominously: "At this level, you can only be patient for so long."
He confirmed there were big question marks by the players name but added: "Perhaps Modibo will do the opposite to players such as Aston Villa's Christian Benteke and Papiss Cisse at Newcastle, who both began their careers in English football spectacularly but have since levelled off somewhat.
"There are some others, too, and Modibo could be one of the slow burners who take time to settle. Perhaps this is his time. If he can go on a run of scoring, it will alleviate all our problems."