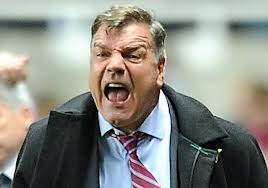 Sam Allardyce reckons Mark Clattenburg frustrated the Hammers players on Saturday.
After the Hammers found themselves charged by the FA for the Goodison battles last weekend the boss said: "I can't argue with the charge I don't thinkWe got so frustrated by what was happening and the decision of the referee caused us to lose our control.
"I don't condone what we did, but I can understand why the frustration crept in. We have to control ourselves in those situations because we could have lost a player to a red card."
He continued: "Both sets of players were involved and to be fair to my players they don't often do that, very rarely do they lose control.
"I don't think Mark Clattenburg helped the matter. If he had given a free kick for the first tackle, it would have eased the situation.
"Then it would have been just a case of getting the ball on the floor and getting on with it. But he didn't give a free kick and when players are getting what you consider to be unfairly treated, then you want to stick up for each other.
"But you don't want to extend it into the levels we saw last Saturday."