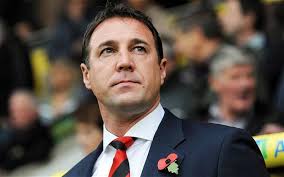 West Ham fans are believed close to be close to getting their wish that Sam Allardyce is sacked. 
The club are believed to have certain managerial targets on a mental wish list which includes sacked Cardiff City boss Malky Mackay (pictured right).
Allardyce having made it clear he won't leave  he will walk away with close to around £3.5 million which would include a £500,000 Premier League survival bonus should the club secure safety.
Sources in the club have made it clear over the weekend that Allardyce will see the season out but that crowd demonstrations at West Bromwich Albion  has seriously weakened his position.
Andthat was followed this morning by a poll run by 16 club websites in which 78 per cent of the 12,000 plus fans polled voted for him to go.
A trusted source told us: "The club is very worried by the current disunity and there's a growing acceptance that the football on view just won't do.
"There will be a board meeting at the end of the season and it is now increasingly likely a new boss is installed."