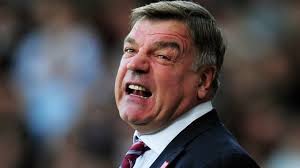 If  a double injury blow and Sam Allardyce's comments on them hadn't depressed us enough his view of the match against Wellington Phoenix was pretty horrendous …to put it mildly!
And before we consider his comments let's remember that Newcastle United are at exactly the same stage of their preparations  as us yet brushed Sydney FC aside 4-0.
Sam, however, rolled out a litany of explanations on the Irons performance against Wellington Phoenix which were disturbing in the extreme.
Here's the nub of what he said:
O We got caught cold by the fact that Phoenix showed a great attitude and played at a tempo which the Irons failed to recognise and counter.
O We are " finding our feet" and Phoenix gave a great standard as he expected 
O They fought and shut us down over all over the pitch, did exceptionally well and knocked us out of our stride."
O The team was changed in the second half because of fatigue as "we are working the players extremely hard. We have been training every day, morning and afternoon, because we have to get our fitness levels up."
O The important things are levels of fitness and technique  and what was worrying was that the technique level was "way down." 
Not many positives there then. The players have returned from a summer break and are now fatigued and lacking technique.
The 'mighty Kiwi world beaters ' were more up for the game than us and caught a Premier League cold, took their chances and were clearly the better team.
Meanwhile our guys are being trained morning and afternoon and we wonder whether that may actually contribute to their  levels of fatigue. It would be interesting to hear from Sam not thay they ARE fatigues but WHY
Looking at his appraisal of things – and given two massive injuries – there's  little room left for hope it seems. There wasn't a word either about how the "lack of technique" would be addressed.
Instead we had: "What matter is what happens on the opening day of the season." 
Well on the strength of what we have seen so far at Stevenage, Ipswich and now in New Zealand we might have reason to worry big time about the first day of the season.
I'm not going to judge anybody on three pre- season friendlies but I seriously hope the manager knows how he is going to improve performance levels as well as fitness and technique  levels by around 150 per cent minimum  come opening day.
Yesterday the post match explanations simply weren't up to much and did I mention Newcastle United are at exactly the same point in their build-up as us?