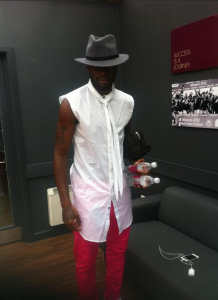 Sam Allardyce was asked at this morning's press conference whether Alex Song was the most fashionable player he had ever managed?
"Do you call that fashion?" asked Sam "There's a whole array of fashion across the squad. Based on their age, culture, their lifestyle. From my point of view, if players want to express themselves, I've got no problem with that. If they want to be recognised for the gear they wear, that's fine with me. "
The club posted a photo of Alex Song  on Wednesday stepping out in style at Chadwell Heath,  the day after celebrating his 27th birthday.
Other commentators were less unkind than his manager calling it a shocking wardrobe malfunction.
He was known for his bizarre fashion sense at Arsenal, and was frequently nominated as the worst dressed member of the Gunners side when he played at Emirates Stadium.