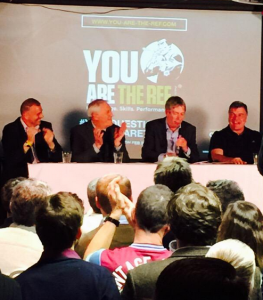 Sam Allardyce – a member of panel at the 'You Are the Ref' event last night – did a runner at the end of a discussion on modern day refereeing.
He was joined by former ref Keith Hackett, Guillem Balague,  Mark Halsey plus a burly 'minder' at Riley's Sports Bar in London and made a rapid departure at the end.
Sam had called for a 10 minute sin bin experiment for 'soft' yellow cards and a possible tennis type challenge system where manager could contest up to two referee decisions per match during the discussion itself.
The event's audience were largely Hammers fans kitted out in claret and blue shirts although Sam was protected at the half time interval by a security guard to prevent any fans questions or annoyance.
And he was away on his heels the very second the recording ended giving no chance for the audience or fans to speak to him prompting one to Hammer fan to comment "Is there a fire drill?"
In one humorous moment of the Allardyce attempted to lead the audience in a chorus of Bubbles when drinking a cup of tea while the event was suffering from a series sound system failure.
Let's hope that rendition makes the final cut on the You Are the Ref video when published at https://you-are-the-ref.com/