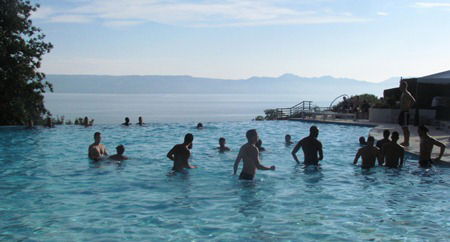 Sam Allardyce wants to make sure his players have woken up to the fact that the holidays are over.
And that's why this morning they were out of bed and in the swimming pool by 7.30 am.
Despite being ensconced in a magnificent training centre the manager is making sure none of them believe they are on an an extended summer break.
Under the guidance of fitness coach Eamon Swift the players went through a series of movements in the main pool.
That was designed to prepare them for the exertions of the day ahead, which included another session on the pitch before a gym workout in the afternoon.
Swift said: "The manager wants the players to realise they've had their holiday.
"The manager wants them to know that they're back and they need to get their bodies and minds right for the season ahead.
"It's very much his idea that we get them up early, that we wake up their minds and on Sunday we did it in the pool.
"We might do it on the bike and go for bike rides – it gets them together too because they tend to be a bit sleepy and tired as they walk down, but by the end of the session they're playing ball games and they're awake.
"It gets them switched on and ready for when we go down to the pitch, so it has a few purposes and a few benefits really."