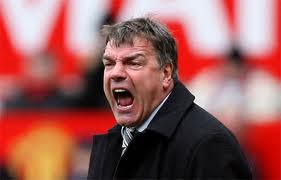 One of the interesting aspects of running a website such as this is that many punters here and on Twitter believe they have your position on most issues all worked out!
The times I've been called a West Ham "company man" and a "Sam Allardyce-hater" beggars belief …and that's just from the people who don't know me and haven't a clue where I stand on anything, or indeed who I know (and don't).
But with the position of the manager under almost constant discussion on Twitter and having been asked ad nauseum where I stand – here we go!
Some time ago I had been taken in by the  anti-Sam hype "hoofball" stuff and admitted in a blog later I'd been wrong.
Us often 'holier than thou' John Lyall purists need to be honest with ourselves and admit  there have been times when Sam has provided some very decent free flowing football.
However, it also needs to be remembered that he does love a big man up top being plied with crosses which isn't necessarily to my taste.
The gamble on Andy Carroll has gone dramatically wrong and his decision not to get another striker in the summer was in my opinion a massive mistake and he's paying for it big time.
Some will blame the owners for not forking out more dough but here's the deal – they have what they have and their names are Gold and Sullivan – not Glazer and Mansour!
I have been consistent in the view that,  despite Stewart Downing's decent form,  our pressing need then and now was a striker.
And I hold to the view that the £5 milion left from the £20 million kitty a decent loan deal could have been done for one given the known injury problem surrounding Andy.
What has become clear via results is that despite the decent football we have played at times – provided mainly as a result of Ravel Morrison – Sam's 'real' system involves a big fella.
Having decided to go into the season without one, he has been found out over and over again and it's there that the judgements must start. The emergence of 4-6-0 gave hope but it was quickly sussed out.
AC will not be back until towards the end of the month at the earliest. In the meantime we meet Liverpool, Sunderland, Spurs, Manchester United and Arsenal.
Sam has to be judged on the next two games initially. Should we fail to pick up any points or perhaps only one at Anfield and at home to the Black Cats then I believe a decision will have to be made.
I wrote earlier on this site that I believed Sam should remain in charge until Christmas but with the Palace game lost, that scenario has changed.
A win at Palace would have given Sam breathing space. Now there is none.  Defeat on Saturday will in my view make Sunderland a totally "must win" match.
Should we draw or lose I think it has to be game over for the manager – a win may only delay the inevitable given the fixtures that follow.
I am hoping against hope that Sam can produce a series of  miracles and nick points from the most unexpected games starting at Anfield.  If he doesn't I believe the consequences will be visited on him sooner rather than later.
And for me the seeds of his departure, if that's what happens, will have been sown back in the summer when the striker issue was not addressed.
For me that was a managerial decision plain and simple and that the owners really should have no say at all. I will always argue a loan striker should have been brought in when we had the cash to do it.
Should Sam fail  to gain some results I will be bitterly upset simply because it will mean the club I love is in major trouble.
I wish him all the best but like most Irons what I've seen over recent weeks doesn't inspire me or fill me with great confidence for the next set of games!
I'm hoping for the best and fearing the worst!