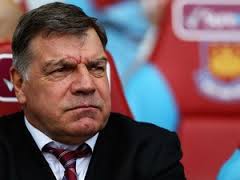 Sam Allardyce doesn't believe he's taken anymore stick from the Irons fans than any other manager …because he has asked most of them!
The Hammers boss is the subject of a major feature in The Sun this morning and has opened his heart on a host of subjects in including his own position at the Boleyn.
And he declares: 'I've had no more stick than other West Ham bosses.  I know because I've asked most of them.
"You don't like it when you are being slagged off while you are standing on the touchline.
"But the fans have a right to criticise if they don't like what they see. If they are paying good money and the team isn't playing well they get frustrated.
"I was told I could have a striker coach if it would help and the answer to that was, 'Absolutely yes'.
"So I asked Teddy Sheringham, who I've known for more than 30 years. He was a kid at Millwall when I was a player there.
"He can offer ideas about things like movement in the box which he was a master at."
And despite the recent 'total football' that's been on display the 59 year old has some strong words for those who believe the game is all about pretty patterns.
He said: " "It seems to be considered more important now to string 55 passes together and lose 3-1 than it is to play 15 passes and win 3-1. It's the biggest load of bull in the game.
"We are in danger of forgetting that the entertainment value is about action in both boxes. Often 50 passes in midfield gives you no action at all."