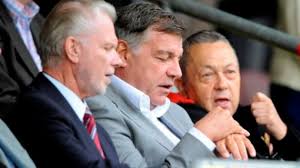 Sam Allardyce appears to be as much in the dark over his West Ham future as everybody else!
Amid heavy speculation that he could be gone as early as next week, the Irons boss has declared that he has received no indication his position is under threat.
However, that's not to say it isn't and such was his uncertainty he claimed he had rung David Sullivan to discuss matters.
He is reported as having said: ""I heard the rumours yesterday. The only thing I can say is that I spoke to David Sullivan yesterday about arranging our usual end of season meeting to go through the pre-season, budgets and what's going to happen next season.
"I had no indication to my position being under threat. That's all I know, and he's the boss. That's really the bottom line, for me.
"I rang him up, spoke about what was going around, and under those circumstances we just talked about getting together and having out meeting next week."
Asked if the constant speculation has undermined his position this season, Allardyce said: "I'm not so sure about that.
"People in the game have to write speculation about what's happening at certain clubs because they have to sell newspapers.
"Whether it's right or wrong, only time will tell. Speculation is a part of the game.
"Whether speculation becomes a reality, at this moment in time, we don't know. I will find out next week if it is."
Allardyce's final words back ClaretandHugh's story of last night when we revealed all will be decided at the end of season board meeting.