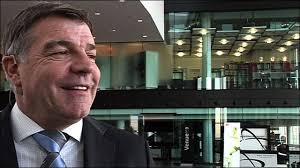 West Ham boss Sam Allardyce will remain in charge of the club next season.
Speculation over his future is now a thing of the past following the 2-1 victory at Sunderland on Monday evening which all but assured the Londoners of Premier League safety.
It means that were the Hammers to hold on to the current 11th place they would bank around £77 million in their share of TV cash and position bonus.
Such is the increase in the broadcasting rights that should the team manage to finish in only 17th place the club would receive £10 million more than finishing 10th last season – 67.8 million, an astonishing increase by any standards.
Although there have been noisy complaints from fans about the lack of style to his play, the board believe Allardyce has done a top job and cannot be fired.
He is seen as a safe pair of hands and that results have assured the club of a stable future.
He has a year left on his two year deal and although the club are unlikely to be offering an extension this summer he is definitely seen as the man to take them forward into their last season at Upton Park.
A source revealed: "Sam was asked to bring the club back to the Premier League and keep it there which he has done.
"There have been some complaints and doubts about the style at times but you can hardly get rid of an employee who fulfills his job remit down to the final dotted i and crossed t ."
Meanwhile in a message to fans Allardyce said: "We've now drawn away from that danger zone, so we need to chill out a little bit and make sure we produce the performances in our final six games that are as best as they can be to try to get as many points as we can.
We've taken the pressure hugely off ourselves so we can really have a go at Liverpool now.
 "I know the players will give their all on Sunday and let's hope that's enough to upset the leaders of the Barclays Premier League.