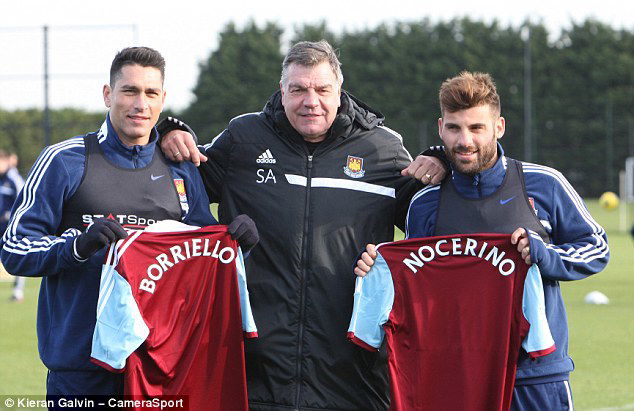 Sam Allardyce reckons the two Italian loan signings Antonio Nocerino and Marco Borrelli are kicking themselves for ever deciding to join West Ham.
The manager admitted: "It's all helped, even though them lads are kicking themselves and thinking "why have I come here?"
He added: "I thought these lads would be playing a big part at this stage, but what can I do?
'My team keeps winning every game so they have to sit back and wait.
'I still think they had a massive effect because the rest of the squad thought "wow, there are more good players coming in, we're going to have to be better on the basis these lads are going to take our places".
"So we're doing okay and let's hope we can keep it up. When they do get the chance let's hope they can show us what they can do.'
He's delighted though that he missed out on Lacina Traore who chose to join Everton despite West Ham making all the running in bringing him to the country.
The injury plagued striker will miss the clash against us at Goodison Park tomorrow with a hamstring injury and Allardyce said: " Yes (I'm happy we didn't sign him).' 
'We knew the danger of the hamstring ourselves. We were willing to take the risk on the basis of the quality of the player at the time.
'Obviously that risk was one that Everton were prepared to take and it's backfired on them.'