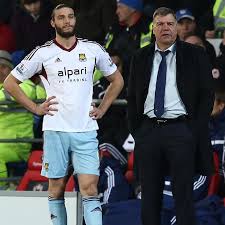 Sam Allardyce is looking for a Sunday turn-up to equal  Crystal Palace's defeat of Chelsea!
And he also pointed to the Sunderland defeat of Manchester City earlier in the season as an indication that nothing  should be beyond the Hammers against Liverpool.
He said: " Since the turn of the year our change of form and results has improved and it's got better and better and now we're in the best run we've had since we've been back in the Premier League.
"We've got to take that confidence into Sunday's game and hopefully we can produce one of those performances that has happened many, many times in the Premier League this year.
"Just the other week Crystal Palace beat Chelsea and Manchester City lost to Sunderland, things like that can happen.
"We beat Tottenham away 3-0 when they were right up near the top so we hope it can be one of those days, but we certainly have to be on top, top form to get anything out of the game.
"Now there's less pressure on us, we're not safe yet, but we are feeling a lot more confident going into this game based on less fear from our league position going into this game."