Alastair Duncan is a national sports writer of many years experience having worked for the Daily Star, The People and the Press Associaton among many others.
Based in the north of England he has been an Iron since his earliest years watching his first game at the Boleyn in 1958.
Today ClaretandHugh is delighted to welcome him aboard as a regular blogger and in his first piece,  Duncan explains that Sam Allarcyce may have the club backed into a corner when the time comes to renew his contract at the end of the season.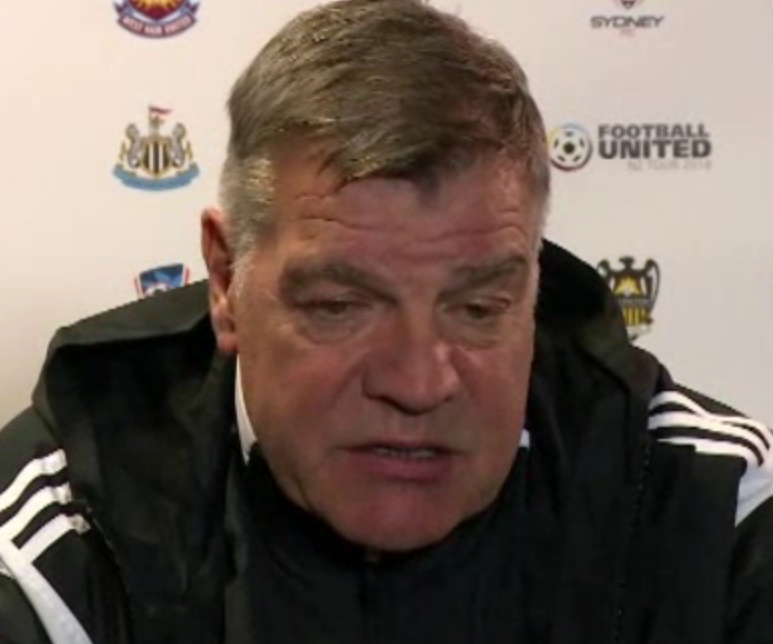 All talk of a new West Ham contract for Sam Allardyce has gone a bit quiet over the past few weeks, it's amazing what two draws and a defeat does to all the speculation.
But the problem of our manager's future does not go away. And it may seem unpalatable to many Irons fans but there are only two real questions now, whether we like it or not. Does Sam want to stay, and can we afford him?
Now the general feeling has been all season, that Sam survived by the skin of his teeth back in the summer, and should be grateful that he has a job and dutifully humble and forelock tugging about the situation.
Forget all that. Nothing is further from the truth, certainly when it comes to the people around him, his agent Mark Curtis and the lawyers who look after the tough negotiations when big-time managers renegotiate new deals.
And if West Ham stay up this term, and finish in a decent position, both of which seems likely although not something we should all take as given, then Sam is in an incredibly strong position, something like Winston Reid's, but without the really big bucks.
When Sam arrived at the end of the disastrous 2010-11 season of Avram Grant, the club was in freefall, financially shot and a pending basket case of Leeds proportions. Since then West Ham have won promotion at the first time of asking and, if we do stay up this season, will have had three fruitful seasons re-establishing ourselves in the top flight.
That is more than any of us, probably, would have hoped for, and something Sam's regime has achieved. Many will say with substance over style, but in a 'results business' like football, none of that has the slightest impact on contract negotiations.
At conservative estimates, Sam's regime will have overseen something upwards of £400m flooding into our coffers over four seasons, David Sullivan has taken on our previous bank debts and our finances will have improved out of all recognition as we head to the brave new world of a big stadium and the Olympic Park.
Just look at how much Spurs are squirming and moaning about loss of revenue as they try to build a bigger stadium. Spurs' income per home match is about £1m on gates similar to ours in the mid-30,000s, while Arsenal are taking in £3m a match. That could be us soon, or more relevant, we could be left struggling like Spurs will be(oh what a shame).And it explains why they are still so desperate to find a temporary home in London and not Milton Keynes.
So we will have a lot to thank Sam for, and he knows it. He will without doubt want a healthy wage rise for a start, and his stock will have risen so much it would be amazing if he left us and didn't find another highly lucrative job elsewhere. And even England has raised it's head again.
Nobody will care about the style of his regimes, he is the most successful and experienced current English manager, and the likes of Aston Villa, to name just one, would jump at the chance to employ him.
So David Sullivan can say what  he likes about everything depending on style of play, final position and whether Sam starts to love our fans or not. It has nothing to do with any of that.
Sam is on around £3m a year with bonus, and yes, we all know that makes him one of the highest paid managers in the world. Live with it. Only what he achieves makes any difference.
There is no chance that he would accept a one year rolling contract on the same money. He expects to be rewarded handsomely for saving us from the knackers yard. And Sullivan knows that.
And then there is the little issue of Sam's backroom team and entourage of sports scientists, fitness staff and the vast array of lap-top geeks that surround him. Plus Neil McDonald's new deal too, because our number two is also soon out of contract and turned down Carlisle because of the wages on offer. He made an educated guess to stick around and see how Sam gets on and how the rest of the season pans out.
Sam, we all know, makes it pretty hard to get rid of himself. Just ask Newcastle and Blackburn. He has a habit of surrounding himself with a club infrastructure that , when you dismantle it, leaves the place stripped of quality staff that take a long time to replace.
Newcastle moaned that something like 40 or so lap-top heroes had to be paid off too. A new man comes in and starts building his own team, and that takes time. Time that can cost you relegation like Bolton and Blackburn, or financial upheaval, like Newcastle. Sullivan, with the Olympic Stadium just around the corner, cannot afford anything like that to rock the boat. And Sam knows that.
Whether, even, that we are able to afford Sam's contract demands remains to be seen. Our Financial Fair Play budget includes all of Sam's men and the man himself, and as we are seeing with Reid, there is only so much cash to go around and there are limits to what we can afford next season. We are constantly being told that any incoming transfers in January will depend on departures.
There is no question that Sam, and football in general, will see our manager's time at the Boleyn as anything other than his greatest achievement in the game. Bolton took him a very long time, and they are nowhere near as big a club as us.
He had vast financial help from their Isle of Man based owner, much of which has now melted away. And he could probably see the writing on the wall there. Blackburn have never recovered from his departure, so can we afford to go down that road?
After the season that Sam believes he endured unfairly last time around, his revenge may well be that us–not him–are backed into a corner now.
ClaretandHugh may not necessarily hold the views expressed in this article