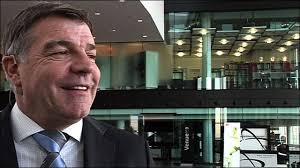 Sam Allardyce is refusing to open up on exactly what he said to Kevin Nolan in a one-to-one following his double red card "stupidity" – to coin the skipper's own word.
He had revealed that he and the boss had a sit – down at which certain things were said but Big Sam wasn't ready to elaborate at today's press conference ahead of tomorrow night' clash with Norwich.
He said: " "That's between me and Kevin, the conversations when you come into my office are private and confidential between me and that person, and nobody else.
"Those conversations only happen on rare occasions for me, when I feel necessary to divulge as far as we divulged, knowing that your experience is telling you to say something and find something out that could help the player at that particular time.
"I'm glad that Kevin is producing the goals because my pressure was that people were saying that he should no longer be captain.
But my ultimate decision was that knowing how he works with the players as he does, and knowing the respect he has from his fellow professionals, that would have been the wrong thing to do."