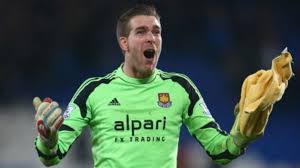 Sam Allardyce appears to be on a mission to talk up his agent Mark Curtis!
The pair have been at the centre of ongoing 'allegations' they were involved in attempting to take  Ravel Morrison into the stable of players run by the agent.
After denying that charge on Thursday, the Hammers boss has again spoken out on the issue  in his London Evening Standard column, where he praised Curtis for his hard work in bringing Adrian to the club from Real Betis.
He said: "In recruitment terms, it was Mark Curtis, the agent who represents me and others, who worked hard behind the scenes to make it possible.
"We followed that lead by going to watch Adrian and that was followed by Mark setting up meetings which ultimately clinched the deal during the summer."
Turning to Ravel, the manager insisted he hoped the midfielder would increase his game at Queens Park Rangers.
He added – returning to the issue of the moment: "An awful lot has been written about Ravel and how he was pressed by me to sign for Mark — 99 per cent of it has been rubbish.
"There would have been contact between Ravel and any number of agents this season. I know, my chairmen know — it happens to any player who breaks onto the scene at a young age.
"If there has been any contact between the player and Mark, as has been suggested, it has been nothing to do with me.
"There would have been a flood of agents trying to persuade Ravel to promise this or that."