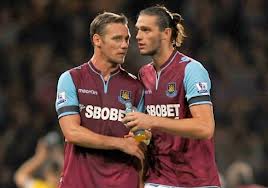 Sam Allardyce has denied that he was a 'Mister Meany' in "stopping" the players from visiting the Cheltenham Festival this week.
Andy Carroll and Kevin Nolan in particular enjoy the 'gee gees' and have a horse in co-ownership.
Reports emerged earlier in the week that the manager had put the block on the squad attending the Festival on their day off yesterday (Wednesday).
But explaining his decision Big Sam said: "They thought they were having a day off on Wednesday that they didn't get. They generally get Wednesdays off in a normal week, but this wasn't a normal week for me.
"They never got told so they probably thought to plan to go to Cheltenham, but when they found out they were in on Wednesday they couldn't go.
"It wasn't a normal week, like I said, and I wanted to do some functional work for the team to re-emphasise what we're good at and make sure we remember what we're good at.
"When you've had a period of time longer than normal without a game, then players tend, in the early part of last week, to switch off mentally.
'They tend to think 'It's two weeks away, I can relax a little bit', take their minds off the pressures in and around the Barclays Premier League and you have to switch them back on. You have to make sure they get focused again."