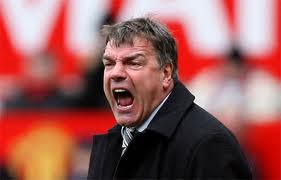 By Hugh Southon
Sam Allardyce took referee Howard Webb to task for  sending off Andy Carroll at Upton park this afternoon as the hammers cruised to a 2-0 win.
It appeared that the controversial ref had decided the striker had intended to strike the centre half who reacted as if he's been shot when a flailing Carroll arm barely touched him!
Allardyce, restraining himself admirably, said: "I've had a look and I can't see how Howard has given a red card when his arm went over Flores' head.
"They were both triying to retrieve their balance and of course Flores over reacted which is the norm with him. That has had to have had an influence on Howard's decision."
Flores has previous in the 'play-acting' stakes and Allardyce recalled him in a previous clash saying: "He was in front of me and squealed …central defenders don't do that do they?"
The boss was full of praise for the winning performance and said: "We played with ten men here and did the same at Cardiff and kept a clean sheet – brilliant."
He made it clear an appeal could be on the way against the red for Carroll saying: "I think if you are going to give red cards for that we might as well stop playing and I'll retire."