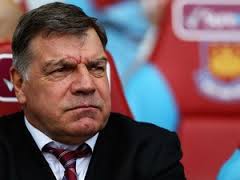 West Ham manager Sam Allardyce believes 38 points should enough to secure top-flight football for the 2014/15 season!
Manchester United visit a sold-out Boleyn for Saturday's teatime kick-off and Allardyce has made points-gathering an absolute essential.
Normally recognised as a master of the stats Sam admits that he's unsure what it's going to take to stay afloat in the Premier leage.
He told the official site: "At this stage you can't tell whether it's going to be as little as 36 points to stay up but I certainly think 38 points should be fine.
"It's about getting to 38 as quick as we can otherwise the pressure mounts again if you keep losing football matches. We've lost two on the trot away from home now.
"Our next game against Manchester United will be very tough and we must get some points out of that and settle ourselves down again."