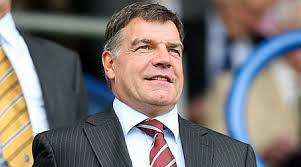 Sam Allardyce has opened up on how West Ham United do their transfer window business after months of 'blame game' comments on Twitter and elsewhere.
Some sections of the fans are ready to put the responsibility entirely on the manager, others stick it on the owners but the managers comments suggest that it really is a case of collective responsibility.
Writing in his regular London Evening Standard column the manager says: " Clubs have various ways of working but here our co-chairman David Sullivan, as well as our recruitment department, receive all the information about potential signings
We all try to filter it as best we can but the bottom line is this window is a difficult one and, ideally, we would prefer not to have to work in it.
For the second successive year, though, we must do some business. Last season we had to move because of injuries and this year we have the double whammy of injuries plus poor results.
Unlike last season, as co-chairman David Gold pointed out at the fans' forum earlier this week, we have to try to make an early signing and the player has to be ready to go straight in.
The problem is, however, that there are fewer really good players available, than ever before. A few seasons ago you could go to AC Milan, Inter, Juventus, Real Madrid and Barcelona and they would happily give you a top-class player who hadn't figured in their team.
None of those clubs do that now because of the financial situation. They don't have 35 senior pros on their books anymore, so now they offer you their younger players.
As we get nearer January 1, it becomes more and more ferocious but everyone is working as hard as they can to find the player good enough to come and make a difference. The reality is also there must be a reason why that player is available. If things were perfect he would be staying where he was, wouldn't he?
We're not in the position of signing the best player at another club so it follows there must be a problem where he is — either he has fallen out with the coach, he has gone off the boil, he's not getting a regular game…
My biggest success in January signings has to be Youri Djorkaeff. He was at Kaiserslautern but not playing regularly so Bolton did a deal to sign him initially for the rest of the 2002 season."