Sam Allardyce has been talking up the crossing and heading approach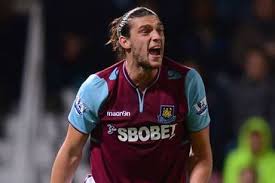 after a grandstand finish to yesterday's game against Aston Villa.
Perhaps that's a tad worrying for some who remember that as the sole tactic at one time but there can be no doubt he has the right to draw attention to it after such an amazing climax to the game.
We aren't gonna win every week regardless of who is on the pitch although maybe we should have beaten Villa given the chances we crated despite only five of them on target.
However, there's an irony hidden away in the fact that despite having three strikers on the pitch at that stage we couldn't find the net.
Afterwards, Allardyce was keen to talk up the performance and the last few minutes in particular when we appeared to resort to what had preceded the "play, play, play" philosophy the team has adopted this season.
He said: " With Andy Carroll, [Diafra] Sakho and [Carlton] Cole coming in on those crosses you could see how exciting it was getting the fans when they were getting up and heading that ball at goal.
"People forget how exciting crossing and heading the ball in the back of the net is these days."
Agreed but it will be a MIXTURE of that and the free flowing approach which will drive us on to the heights we want to achieve. Please, no returns to the one dimensional approach of the past Sam.
Villa should have been buried and but for some great goalkeeping would have been and the finale raised one huge question again: Could Sam be tempted to play Carroll with Enner Valencia and Diafra Sakho?
Neil McDonald refused to rule out the possibility in an interview a few weeks ago but I can't see it and I am praying that the boss rotates his strikers.
However, the disappearance of Mauro Zarate from the scene and the reappearance of Carroll and regular appearances of Cole in his absence fill me with  more than a little foreboding.
I really hope I'm wrong and that the manager continues to surprise me.