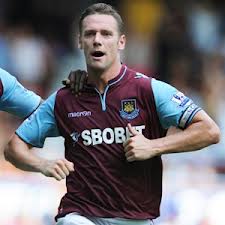 Sam Allardyce has pointed discontented Hammers players towards Kevin Nolan and toldf them to adopt his attitude.
The manager – writing in his London Evening Standard column recently – said that "one  of the by-products of having a much stronger squad this season has been that some of our players are missing out on game time and they're not happy."
He said: I haven't had too many knocks on my door at the training ground and hopefully the unlucky players understand and said: "They have a choice – they can be disappointed and petulant or disappointed and professional."
The speaking of Nolan he said: "Kevin Nolan illustrated the best way to come back recently. To say he wasn't pleased to be left out is an understatement but since he's come back, he has channelled his anger and aggression into two fine performances for the team.
"It was a case of ,"I'll show you, I'll prove you wrong – I'll make sure you don't dare leave me on the bench again".
And he made it clear: "The bottom line this season, from the captain through to everyone else, is that their places are less guaranteed than at any time since they've been at the club.
"They may not like that but it is certainly a comfortable feeling for the manager – even if I don't find leaving people out of the team easy at all."