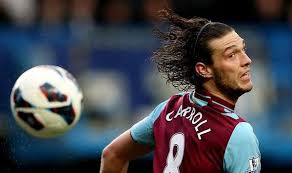 Andy Carroll will not be launched back into first time starts for about six weeks!
The injury-plagued striker returned to the fray today after another long lay-off but manager Sam Allardyce isn't even tempted to shove him into ma double quick return.
He gave an emphatic 'no' when asked if the big striker could start against Everton following the international break making it clear it will be a long haul back for the club's record signing.
He said: "He ios now having his pre-season and the first outing was this afternoon for just a few minutes. Like every other player his pre-season will take at least six games and there will be no rushing him back into action."