EXCLUSIVE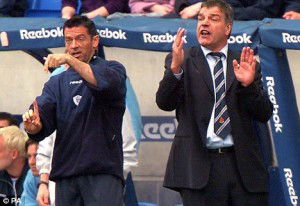 West Ham sources received former Sam Allardyce assistant Phil Brown's:  "They're crazy to let him go" outburst on talkSport in stunned silence before waves of laughter broke out.
The Southend boss and former Allardyce assistant at Bolton had said: ""I think it's crazy that West Ham are letting him go. He's one of our top English managers," 
After finally letting the at out of the bag, Brown added: "A lot of people have pigeon-holed him as a survival manager which is ludicrous. He's got promotion from the Championship and not only survived but taken them into the top half.
"He came to West Ham to do a job  and nobody can say he hasn't."
However, ClaretandHugh's top contact inside the club laughed:  "Crazy to keep Sam?…crazy?"
"No I'm afraid Mr Brown needs to understand we'd be crazy to keep him – three win in 20 games!  It is safe for you to write that it's over."