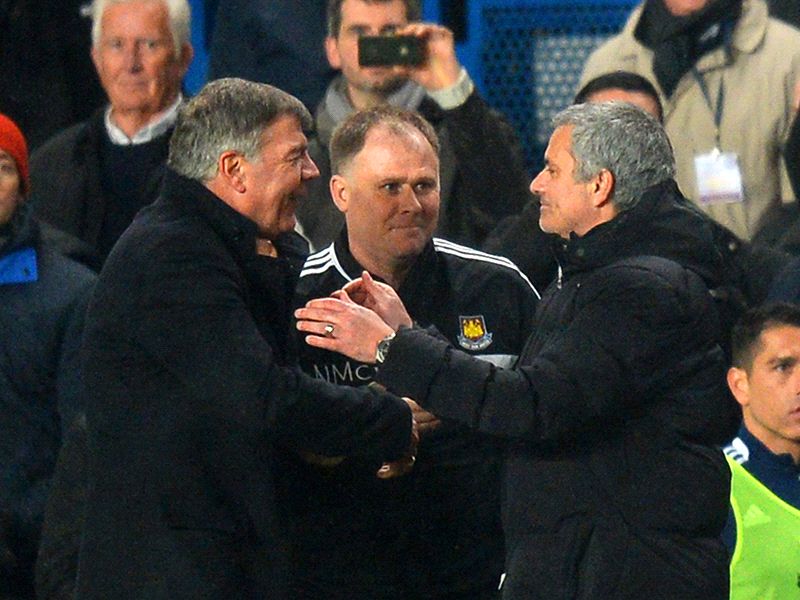 Sometimes managers can be accused of playing "mind games" when paying tributes to the manager and team they are about to meet.
And we all know that Jose Mourinho is a master at that business having even outgunned old pal Ferguson on a number of occasions.
His wind-ups on Arsene Wenger and Rafa Benitez are the stuff of legend so when he decides to pay Sam Allardyce and the Irons one of the biggest tributes ever, you immediately look for the agenda.
However, on this occasion I don't think there is one – how on earth could there be? He's merely saying that Sam has found a way of doing the job at Upton Park – a fact  pretty well accepted universally.
He still has his critics – one in particular on the ClaretandHugh forum  – but the fact is that when Mourinho says he will be manager ofn the year if he finishes in the top four, nobody is gonna argue.
Last season of course the Chelsea boss accused him of playing "19th Century football" in the corresponding season as we earned a goal-less draw. Today he admits they were "silly words."
It would be very easy to apologise for much of what many of us said about the manager last season. That would be wrong because the football was truly awful.
However, if Mourinho – a man with an ego as big as a house – can  eat humble pie so can I and, I hope, all the others who claimed Sam Allardyce was a dinosaur with just one way of playing.
That was wrong so two words I never thought I'd say: "Sorry Sam."
However, there's more to this than Sam and the diamond although again he has to take all the credit for Stewart Downing's transformation which has ensured it's worked so well.
The fact is that when the two Davids decoded to take a much closer interest in who came and who went, things changed.
They provided the cash and David Sullivan negotiated many deals which have revolutionised this club beyond anyone's wildest dreams.
They, like Sam Allardyce, have taken much stick down the years but together they have shown the obvious virtues of working together in a spirit of goodwill and allowing malicious criticism to go over their heads.
Today the three of them may well be celebrating the finest match result in the club's recent history – should that happen it will be fascinating to hear what Mr Mourinho has to say after the even rather than before it.