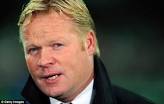 Sam Allardyce asked  all Hammers fans to show a little patience earlier this week!
He reckons his new players need time to bed in and at one stage claimed that we should know where we are in about ten weeks.
We've all heard his many excuses after games but making them beforehand and suggesting we should hold until the end of November before judging is pushing it a bit even by his standards.
Among the stuff he trotted out was: "Fans expect to see the best from the new players from day one. But it's hard to integrate players, especially foreign players.
He then droned on about taking the player's family into account and needing to make sure they were all happy."
He then claimed the euphoria surrounding the transfer window acts as a distraction" before adding carefully:  "But we can't use that as too much of an excuse." So it is some sort of excuse then Sam?
In fact it's worst than that: It's a load of old b……s as the rise and rise of Southampton under new boss Ronald Koeman shows.
Koeman barely has his feet under the table at St Mary's yet managed three against us in winning and four against Newcastle today. They are  now flying high.
Making Allardyce's point even more ridiculous is that  Koeman is building a new team after the departures of key players like Luke Shaw and Adam Lallana.
There was no pleading for time to adjust – no calls for patience – just a determination to get on with and build a quality footballing side that wins games.
Sam Allardyce is one of the highest paid managers in world football and perhaps needs to stop talking for long enough to realise that.
We are not interested in cries for patience – we've shown enough under his management.
Results are all that matter so get on with it mate or to use a well worn journalistic expression: Make your excuses and leave!