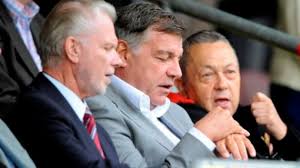 Sam  Allardyce seems to believe that our all out attacking policy  is at times causing us to "leave the door open at the back."
Trying to explain the slide in fortunes over the last three games the manager said: " At the moment, we've just not got that killer instinct on the front line!
And because we're going all out for it we've left the back door open a couple of times and the opposition have taken advantage of that."
And he agrees that the anxiety is getting to everybody in the club declaring: "The anxiety when you play a game of football is felt all around the ground.
"The fans will be anxious, the fans will begin to get anxious again and you've got to be able to cope with that pressure.
"You've got to be able to cope with that anxiety and make sure you have a positive frame of mind to deliver your best.
"You can't let it prey on your mind, you have to go out and play as well as you can. The team have to have a great spirit and a great resilience in terms of what you want to try and achieve."