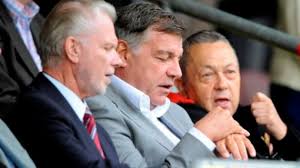 Sam Allardyce is reported to have told friends that he won't walk out on the Hammers this summer!
The Upton Park boss launched a blistering attack on sections of the fans over the last 48 hours claiming  the lack of praise for his players is getting was  "sickening"
And he added, when asked about the team's style: "Well you see, it's all a load of bull.
I think that it's all about the perception and the reputation of Sam Allardyce, not the West Ham players and how they play. It's all perceived to be like this and nothing else."
But he intends to stay according to a report in the Sunday People where it's claimed he's told friends he won't be quitting ahead of what will be the last year of his contract.
Hammers co-owners David Sullivan and David Gold have allegedly decided to take a greater hand in transfer deals and want more style.
And they will conduct their usual seasonal review with the manager as has been their practice since they entered the game at Birmingham City.
The received wisdom is that as far as they are concerned Allardyce will enter the next season in charge although early results could dictate his future.