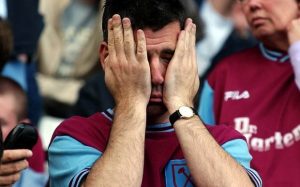 After 105 days without West Ham football and therefore no defeat for three months it was inevitable our restart would not start the way we would have hoped. That is, of course, the West Ham way and it started early with the team news that Seb Haller and Angelo Ogbonna were out injured despite 3 months of not playing.
During the game West Ham lacked any real intensity yesterday, it looked like a pre-season friendly game except Wolves looked twenty per cent fitter and had 5 yards more pace than us.
We did well to make it to half time without conceding but as the game went on Wolves grew stronger in confidence and the outcome looked more predictable.
One man changed the fortunes of the game and that was Adama Traoré, Wolves could afford to rest him for the first 64  minutes before bringing him on as a super-sub to such devasting effect.
When David Moyes rejoined West Ham he said winning is "what he does" but after yesterday's loss he moves dangerously close to Avram Grant's poor record.
Former West Ham manager Grant managed to last 47 games for the Hammers winning 15 games drawing 12 and losing 20.
David Moyes has now managed 44 games for West Ham, winning 12, drawing 12 and losing 20, he needs three straight wins against Spurs, Chelsea and Newcastle to equal grant. 
Not that it is all down to the manager, players need to put a proper shift in to ensure the Hammers survival and many weren't playing with enough determination and passion required in a relegation dog fight.  Felipe Anderson disappointed again in a game where he could have proved the doubters wrong.
Wolves overrun the whole West Ham midfield and we never looked like scoring. The only player of note was Declan Rice who was forced to drop back to the centre back role.
He was the one player who appeared to be playing for the badge and understood what is required of him despite being linked with a move away to Chelsea this summer.
Let's hope this defeat is a shock to the system and a different West Ham turn up against Spurs next Tuesday in our cup final.
Show us what you can do and repay our faith in you.