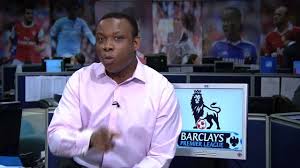 ClaretandHugh's top columnist Leroy Rosenior shared the Premier League TV studio with Hammers boss Sam Allardyce yesterday (Sun) and told us tonight: "It's a long time since I've seen him as relaxed and chilled."
Top pundit Lee – declaring Saturday's win over Liverpool as being "absolutely sensational" –  said: "I made a point of going over and congratulating him.
"He thanked me and we had a chat. He was very chilled and looking v at peace with the world. It's the best I've seen him for a while."
Leroy, has several answers as to why it had taken the manager three years to come to a point where he could switch from one up to 'total football.'
Never one to pull his punches Leroy – speaking exclusively to CandH – said: "He's a stubborn man at times. He may well be one of those who when people insist he does it their way he digs his heels in and does the opposite.
"There's been an awful lot of pressure on him from the fans who I think have won the day. They created the pressure which made the board act and Sam has responded well.
"This is a team that can really go places. I'm pleased for everybody involved with the club that it's going so well. Things are looking very promising indeed."