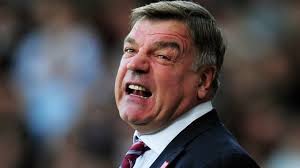 Twitter really isn't the best place to hold a discussion!
One hundred and forty character soundbites are really not the stuff of sound argument and balanced debate.
Yet there's one point of view that is regularly put forward on there as a central argument for keeping Sam Allardyce in place as West Ham manager.
It goes like this: "Sam is a safe pair of hands against relegation and has done what the club asked him to do."
Sorry but I have real problems with that at two levels:
1/ There were 16 other Premier League managers who achieved safety without resorting to the sort of football seen from West Ham last season;
and perhaps more importantly, if our only ambition is to avoid relegation  I would suggest that West Ham has become a club with absolutely no ambition.
Outside of the big boys, among those who managed to remain in the top League were Steve Bruce, Paul Lambert, Gus Poyet, Tony Pulis and Alan Pardew.
None are big name managers but guys who can at least introduce a degree of flexibility to their sides.
Ok, Allardyce is a safe pair of  hands but that's not enough for me, nor should it be for this great club of ours.
My problem has always been with the brand of football Allardyce supplies and the examples of those who have managed to stay afloat, listed above, demonstrates it doesn't have to be this way.
I believe from regular conversation held with people inside Upton Park that the club does have big ambitions.
But too often I have heard the worried  murmur: "But we must survive – we really must." It flaws our thinking and it prevents  a move towards a progressive style and it's that thinking which needs to be rooted out.
We now stand one week away from one of the most critical decisions this club has had to make in recent years.
My view has been constant. Sam's ways have never been my ways and we really need to bring back the style.
There are managers out there who can create balance between flair and solidarity – manager of the year Pulis proved that, Gus Poyet, did a remarkable job at Sunderland and even Swansea City's unsung Garry Monk, taking over from Michael Laudrup, managed it.
I don't remember hearing those clubs talking regularly and monotonously about  the need to avoid relegation as the main aim however much much it was on their minds so why West Ham? That kind of talk sends out all the wrong signals!
As the May 23 crunch meeting approaches I would say this to the board:  "Look forward – not back…stop looking over your shoulder – move forward  – survival mentalities are for the anxious and unambitious.
West Ham needs a bold new vision with a top winning manager. That may cost a few quid but avoiding relegation can  no longer be the sole objective for this club we love so much!