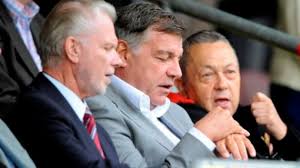 Many years ago, when Sam Allardyce was just a strip of a lad, there was a hugely popular television programme on air called 'That Was The Week That Was'.
It was a satirical show and were it still running today I have no doubt that West Ham and Allardyce would find their way onto it.
Only last week in this blog I made it clear that the Hammers had to change next season and that Allardyce needed to make that happen.
The boss has since used the last seven days to explain, firstly, that nothing much needed changing… although he would like a Luis Suarez-type striker.
Err, sorry Sam, can you run that by me again? That sounds like a very big change indeed to me!
And so to Saturday when we had demonstrations on the West Brom terraces as a banner was unfurled claiming Sam should leave because he's 'killing our club'.
That led to scuffles which were initially believed to have been pro and anti Sam forces taking a pop at each other – the truth is somewhat different.
Over-zealous west midlands stewards were in fact being resisted by Irons fans as the 'peacekeepers' attempted to wrestle the offending banner from the possession of its owners.
On the pitch, the Hammers slid to yet another defeat and afterwards Sam was keen to explain that he was responsible and that he felt sorry for the fans etc.
He may or may not have been aware that this fourth defeat on the trot had seen him equal Avram Grant's infamous record.
The next day came the hammer blow. Sixteeen independent websites had come together for the first time in the club's history to hold a 'stay or go' poll. It buried the manager under a landslide with 77 per cent wanting him gone. It has since been sent to David Sullivan!
Not unnaturally the manager's response was to say "I stay" – although the owners may or may not feel a little differently on that particular issue.
It didn't take long for a five year old quote of Sam's to emerge where he had commented on the sacking of his successor at Bolton Wanderers, Gary Megson.
It read: "I always think that's a very unfortunate situation because in the end, if your fans decide that they don't like you then you've got very little chance of keeping your job, no matter how good you are."
Now there's enough satirical material in that little lot to keep a scriptwriter going for a week or three but if you happen to be a Hammer this is no laughing matter.
How do we react to it all? Well, it seems to me that whilst the results are worse than anybody could have imagined since the February fixtures which look to have saved us from relegation, there's a far bigger issue which the owners simply cannot overlook.
It's this: There's a split right down the middle of West Ham United. The Twitter Army is pouring abuse on the manager's head 24/7 over what they perceive to be his personal obstinacy whilst disapproving greatly of his on field tactical approach.
There's a war going on at the heart of club and I was told by one trusted source: "The atmosphere has become more than uncomfortable. It's an awful environment in which to try getting results and do business and it has to be addressed quickly."
The fan fury is unlikely to abate, Sam's well known approach is unlikely to abate and thus the view of the manager from that five year old quote on Megson may well become a reality for the Hammers boss!
Follow @hughsouthon