By Gonzo
The Evening Standard are reporting that Hammers
striker Gianluca Scamacca has been dropped by his agency over a breakdown in trust.
In a bizarre and unprecedented statement his representatives, 'World Soccer Agency' announced their decision, confirming that Scamacca had remained keen to continue working with the organisation.
"World Soccer Agency formally ends its working relationship with Gianluca Scamacca," . Although the player expressed a desire to continue working together there was no longer the trust necessary for a healthy professional relationship.We thank the player for his time spent with WSA and wish him all the best for his future."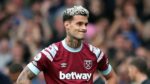 Quite what this means is anyone's guess but it certainly doesn't sound healthy. I'm quite sure that more details will emerge as the story continues to leak, but it must call into question whether Scamacca is ready to resume his role in David Moyes team.
I'd be very surprised if the club were not aware of the breakdown between agent and player before this statement was released. This may well go some way to explaining why West Ham continued to pursue Lorient striker Terem Moffi, despite having signed Danny Ings from Aston Villa.
Scamacca had been expected to play some role in tomorrows game against Manchester United as he continued his recovery from injury.