---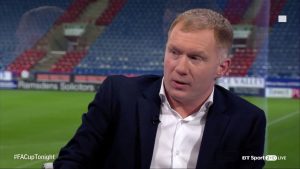 Former Manchester United star Paul Scholes has paid the Irons an almighty compliment in the post mortem following his team's defeat at the London Stadium yesterday.
The former Red reckons that the United big three were vastly inferior to ours and that had Arnie, Anderson and Yarmolenko been on their side they may well have won.
He savaged the performances of Romelu Lukaku, Marcus Rashford and Anthony Martial.
He said on BT Sport: "We talk about the effort as you rightly said but that is the first thing you expect from a Manchester United player but any footballer.
"But I just wonder if the quality is there as well, y'know the amount of times I would have been saying are these players really good enough, they've not really shown that they are, I don't think.
"I think if United possibly had West Ham's front three today then it could have been a different story, the lack of movement from Lukaku, Martial, we know he's got ability, we know Rashford's got ability but they've not shown it anywhere near enough."